Satellite View No. 3, 2005
Satellite View, No. 4, 2005
Satellite View, No 5, 2005
Dual Orbits, 2005
Untitled (Scotoma), No. 7, 2004
Untitled (Scotoma), No. 8, 2004
Untitled (Scotoma), No. 10, 2004
...even in a room full of darkness, 2005
This id a detail of the aperture that transformed the Katz Gallery at the Block Museum of Art into an architectural camera obscura
...even in a room full of darkness, 2005
View of the Block Museum windows across from the aperture.
"Freedom is a light for which many people have died in darkness" is drawn from the Tomb of the Unknown Soldier of the Revolutionary War in Washington Square, Philadelphia.
...even in a room full of darkness, 2005
...even in a room full of darkness, 2005
Interior projection in the Katz Gallery.
The projection was 9' tall and 13' wide. This image has been modified to enhance the vibrancy of the projection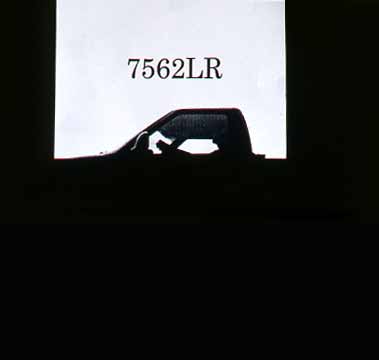 7562 LR
Postcard
7562LR was an art gallery in a 1995 Chevy S-10 pick up truck. Named after its state issued license plate, the gallery was open by appointment during the 1997-98 gallery season. This moving venue gave viewers the opportunity to experience contemporary art while driving in and around Chicago. All works were accessible in the cab while driving and all works engaged 1) the transitory aspect of the gallery space; or 2) the location of Chicago as the transportation hub of America; or 3) the transient quality of the art experience; or 4) any combination of the above.
Exhibited artists: John Arndt, David Hullfish Bailey, CAR, Jim Duignan, Barbara Holub, Jeff Krueger, Jenny Perlin, and Michael Piazza.
7562 LR
In Humboldt Park, Chicago.
7562 LR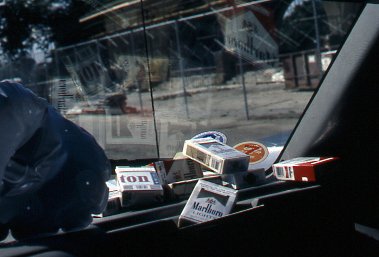 7562 LR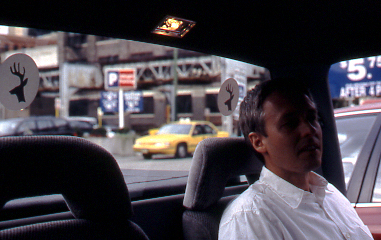 7562 LR
7562 LR
7562 LR
7562 LR
7562 LR
7562 LR
7562 LR